Today's SBQ was suggested Kathryn and is:
How many needles do you use during a project? Have you ever loaded up a needle for every color? Do you use a new needle for every project or recycle your favorite needle?
I only use one needle at a time per project. I have never really thought about using more than one needle because I think it would be hard for me to keep track of the needles. Heck, I am doing good if I can keep track of the one I am using! If I say "Uh-oh" Mike starts to look on the floor for my needle. :)
It is sad to say but I haven't touched my stitching today. I have decided to start another new project. You may remember I started to stitch a design called Geisha by Nanci Rossi but due to events beyond my control the fabric got ruined. (For those of you who are wondering what I am talking about go
here
.) Anyways, I am going to start her tomorrow. I am stitching her on 28 count white cashel linen.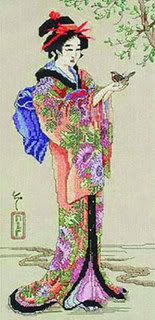 I am not sure how much I will get to work on her tomorrow. I have to take FIL to the doctor tomorrow for his yearly check up. After that we are going out to have lunch. Meanwhile Mike gets to take Allie to the dentist to have 4 teeth pulled to get ready for her braces to be put on. The actual braces will probably be put on later this summer.
Again, I want to thank everyone for their get well wishes. :) I am feeling better but not quite normal. Most of it is due directly to stress. Between my FIL, Mike, kids, and pets and I honestly don't have any "me" time lately. By "me" time I mean time by myself to do stuff for only me. With summer break coming on it doesn't look like I am going to get it anytime soon either. At least I won't have to get up at 5:45 am until school starts back....yippie!!
Happy Stitching!