I worked on Jeweled Ornament but I ran short on beads. Thanks to my clumsiness! Anyways I have set it aside until I can make a trip to my LNS later next week.
I started and finished the stitching on this piece called Floral Fantasy from Ozark Sampler. I used the DMC colors 99 and 221. I am going to finish this one into a biscornu.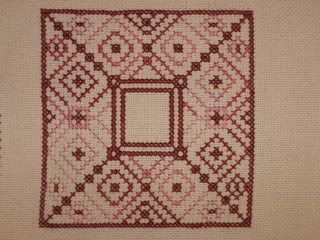 We're not doing much this weekend. Tomorrow we are going to FIL's house and the girls are going to stay the night with him and help him with some cleaning. We are going to do our grilling out with FIL tomorrow so we can hopefully just hang around the house on Monday.
I hope everyone has a great weekend!