This is the first chance today I have had to sit down and and clear my head. It was a busy morning for me. I had to take FIL to the doctor's office today. First of all, FIL was convinced his appointment was at 8:15 which it actually was at 8:30, so he had us rushing around when he thought WE were going to be late. Turns out the doctor took over an hour to see him! Ugghh!!
When I made it back to the house a little while ago I went in search of the kitties. I found them in the girls' room aka Black Hole!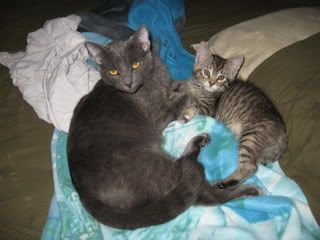 As you can guess Zoey has accepted Claudia. :) Last night I caught Zoey giving Claudia a bath. Of course, Claudia really didn't want a bath since she wanted to play but Zoey's maternal instincts took over and made her take it. lol.
I guess I am going to head off and work on Snowie before the kids get home from school. For me this is the best time to stitch when I have the house all to myself! :)