I had an interesting day at the doctor's office this morning with Allie. Originally her appointment was for the rash on her face that appeared Monday morning and a troublesome dry patch on her elbows. One look and the doctor decided the rash on her face was in fact hives and those hives were inflaming her Eczema causing her pure misery. What caused the hives? Her allergies to pollen, tree, and etc. are looking like the culprits right now. The solution is more meds for allergies, cream for the eczema, antibiotic for the spots she has scratched raw, and lots of lotion.
After I got home, I talked to my mom to find out who had/has it my family. She then calls my grandma to find out and the answer was my mom had problems with it when she was younger. So bad in fact that my grandparents had to put splints on her arms to keep her from scratching herself! Apparently my mom had forgotten all about it until now..lol.
With all that going on today I haven't picked up my needle today. I am not sure if I will work on something tonight or not. I not really in the stitching mood today. I did take a picture of this ornament I started. It is called Jeweled Ornament by Ozark Sampler. It was a freebie I got at my LNS.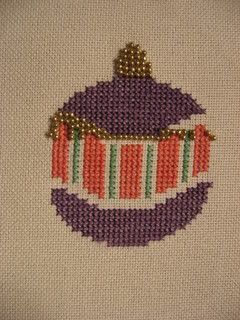 I hope everyone had a good night!