I have said it before and I will say it again.....every time I make plans something always goes awry! I had planned for some mega stitching this weekend but as of right now I still haven't picked up a needle. Last night I played in my stash and found 4 patterns that I have all kitted and ready to go. Since I had everything out, I figured I might as well and go ahead and kit up some more patterns. I ended up kitting up another 6 patterns! Those 6 aren't fully kitted up, they all need some fabric yet. Now, my problem is deciding which one to stitch next!
It has been a pretty good day for me. We went and seen FIL this afternoon. The kids and Grandpa cooked a nice lunch for me today. They made roast, potatoes & gravy, corn on the cob, and green beans. Yummy! and the best part was I didn't have to cook or clean up the mess. Tonight Mike is making italian sausage, macaroni and cheese, and a salad. Another Yummy! Yes, I admit I LOVE to eat.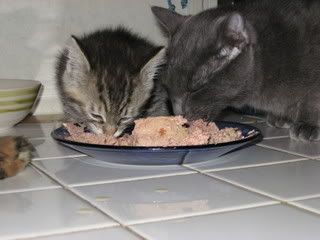 On the kitty side of things, Zoey has decided Claudia isn't so bad to have around. I still have to keep an eye on Zoey because she does get a little too rough sometimes. Girly helps me out because once the kitten cries she is instantly right in Zoey's face barking at her. I find it funny when Zoey cries, Girly doesn't do a thing!
Lastly, I want to wish all the mother's a Happy Mother's Day...enjoy what is left of this day :)