I had a sweet surprise for me waiting in my mailbox this afternoon. I received a Thank You card from Debbie for her PIF gift. The card is beautiful!! I love it! Thank you so much, Debbie!
I had a very productive day for my stitching. I finished 2 small pieces today AND they were both stitched over one thread. This one is from the 2005 JCS Ornaments called Britty Christmas Kitty. I stitched it on some scrap 32 count fabric and used the recommended WDW threads.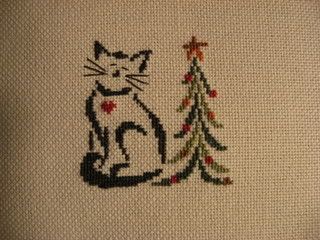 The second one is from Holiday Trimmings II and also stitched on 32 count fabric. I used WDW threads from the Britty Christmas Kitty that I had left over. I will either make these two into an ornament or maybe a scissor fob.
Thank you all for visiting and for the get well wishes.