This morning when I was reading
Carol's
blog I had to check out the freebie
biscornu pattern link
she was sharing with all of us. As soon as I saw it I knew I had to stitch it up! I used DMC floss on 28 count Amsterdam Blue linen.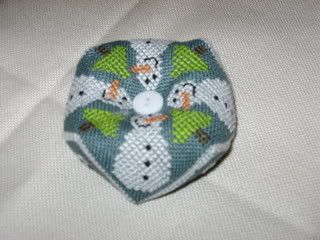 As you can tell I didn't work on Woodland Faerie today. It doesn't take a lot to get me side tracked...lol.
Mac has been on a destructive roll today! This morning while he was getting dressed his closet rod for his clothes fell down. Believe, 6:00 am is not when you want to hear a loud crash! Then this afternoon he fell out of a tree. He got a scratch on his upper arm and a big bruise to the ego. Sometimes I wonder if that boy will make it to 18!
I want to thank everyone for all the wonderful comments on Griffin Kitten. Even after all this time blogging, I still get a warm fuzzy feeling on each comment.:)