Yep, I did it! I finished Griffin Kitten today. :) I am just in love with this little guy. However, if I was to stitch it again I would omit the half stitches in the background or stitch it on a darker fabric. I have no plans for this one right away so it is headed to the WTF pile.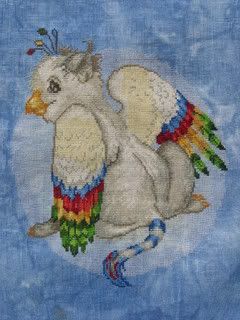 It even gets better. I stitched for about an hour and a half on Woodland Faerie! Sorry not enough progress for a picture yet. This one is my only WIP left to finish. Which means a new start is in the future. :)
Here are the patterns I kitted up and are ready to start.
1. Above the Clouds-TW
2. Cats-Stoney Creek Collection Nov/Dec 1991
3. Millennium Angel-Mirabilia
4. Leaf-Bent Creek
5. Snowie-Twisted Threads
Here are the ones that I could start but still need to get a few items.
1.Dragon of the Summer Sky-Dragon Dreams
2.Mermaid of the Pearls-Mirabilia
3. Moonlight Visit-Sandra Parlow
4. Waiting for Ships-Mirabilia
5. The Brat-Enchanting Lair
6. Legends-TW/Dragon Dreams/Black Swan
So many to choose from and not enough time to stitch them all!