Today's SBQ was suggested by
Ish
and is:
How do you choose a project for an exchange? Do you pick solely on what you know of the taste of the recipient or are there other reasons you pick the piece you do?
I take forever deciding on what to stitch for an exchange! When I look for a pattern to stitch for someone, I start off with solely their tastes in mind but when I find something that the person would like I have to ask myself if this is something I would enjoy stitching. If I can't enjoy stitching the piece I feel like I don't do my best work and I would never want to send someone something that I didn't feel was my best work.
I worked on GK some more today. I know big surprise..lol. I am really hoping to be able to finish it this weekend.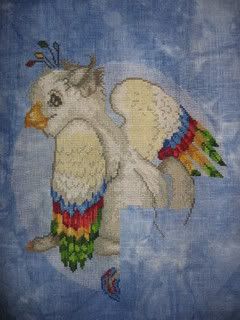 Since it is Mother's Day weekend I am planning on not doing a lot but stitching. I guess you could call it a Mother's Day weekend stitch-a-thon for me:)