It has been a crazy day today! Mike had to go into work an hour early today and he made sure that I was fully awake before he left. How sweet of him...grr! The kids and I just hung out at the house today, mainly because all three of them needed to clean their rooms bad! Krissy and Allie share a room which I refer to as "The Black Hole" because if you enter it you may not come back out! Mac's room isn't so bad if you don't walk in there barefoot. He has hundreds of Hot Wheel cars and boy do they hurt when you step on them.
While they were cleaning their rooms I stitched for a little bit on GK today.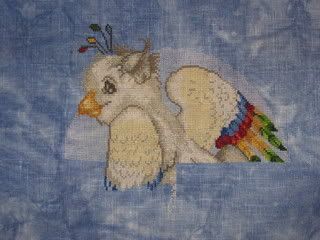 Tonight when we were leaving the store I spotted a "Free Kittens" sign. Yep, I didn't leave without a new baby! She is so sweet! She is 6 weeks old.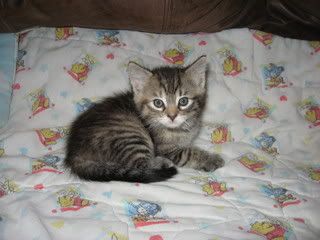 We were a little worried about Girly and Zoey's reaction to her. Girly is tickled to death with "her baby". She is already very protective of her. Zoey, on the other hand, is quite unhappy with the new kitty. I just hope this transition goes smoothly and quickly!