My goal for the weekend was to be lazy, curl up with some hot chocolate, and stitch all weekend long. As normal, it didn't happen! I was able to do some stitching Friday night while Krissy was at her school dance but that was all I got done this weekend. Saturday morning I wanted to go to the craft store but I didn't want to drive out there so I asked Mike to go with me. We had to go to Wal-mart anyways so he didn't object
too
much. Anyways, we get to the craft store and Mike said that he was going to stay in the truck so Mac and I headed in to get my supplies I needed. I know that Mike doesn't like to wait so I hurried and got what I needed and Mac found a cute little turtle charm that he wants to make into a necklace. We go up to pay for the stuff and I had to put in an order for some Mill Hill Crystal Treasures I need for Unicorn and Fairy Magic and head out to the truck. To my surprise Mike is messing around with the stereo and asked me to go back in the store and look around for about 10 minutes. I looked him straight in the eye and told him if I go back in there it is going to cost him because I
can't
just look around I have to buy something. He still wanted me to go back in the store and me being the good wife I am I didn't argue with him...lol.
I found these cute little patterns (perfect for cubes!) and purchased it for $5.00.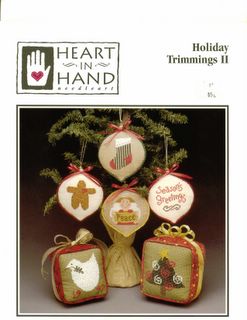 After that we went and did some grocery shopping and headed back to the house. We hadn't been home for 10 minutes when the phone rang. It was one of Mac's friends' mom. She wanted to know if her son could come over and play for awhile. I told her that would be fine and her reply was "Good, we are at the gas station and we will be there in a few minutes." She arrived at the house in less than minute after I hung up the phone! I hadn't expected them to show up that quick! What was worse was they were also dropping off their oldest daughter (who is Krissy's friend) and all of a sudden the kids were spending the night with us. They are good kids but I have had them every weekend for the last month! Five kids is a lot to deal with when I am used to dealing with only three!
I thought I would get a little quiet time today. Wrong! I woke up to get the kids up for school today and Krissy was sick. Mac and Allie went to school but around 11:30 am I got a call from Allie's school saying she was sick. So instead of spending the afternoon stitching I have been running back and forth for chicken noodle soup and orange juice. A mom's job is never done.