I can see the finish line! I ran out of Kreinik BF 032 and DMC white so I will have to make a trip to the craft store. If all goes right I am hoping to make a run out there tonight.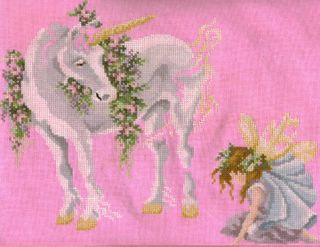 Tonight Krissy is having a friend spend the night. This could prove to be an interesting night with two 11 year old girls talking and giggling all evening. They already warned me that the friend is bringing over some DVD's to watch. I already can see the mess of curling irons, make up, and popcorn all over the front room! Oh, I forgot to add they both play instruments in the band and want to practice together.
On top of all that I will have the battle of keeping Mac and Allie from pestering them too much. I already know Mike is going to go hide and play his computer games and if I am lucky Mac will want to play games too. Allie may luck out and get to spend the night with her friend. Her mother is going to call me later to let me know exactly what the girls have planned.
I am not for sure how many kids will be here tonight (anywhere from 2-5) but I know that it is going to be late a night. The girls will probably outlast me which means they will be cranky in the morning. We probably will take Krissy's friend home sometime after lunch so hopefully we will have a quiet Saturday night. If not at least we will have a quiet Sunday.
Have a good weekend!