There isn't any stitching news to report today because instead I worked on a project for Allie. Last week she found a pattern for an outfit that she wanted me to sew for her. So, today was a sewing day instead of a stitching day for me. The pattern is from Simplicity #3755. Allie picked out some pretty pink knit type fabric for the gauchos. I really liked this fabric since normally when I work with knits I tend to stretch the material and this time I didn't. Too bad I bought all of it they had at the store.
Allie really likes them. She has already decided what fabrics she wants me to do next for her.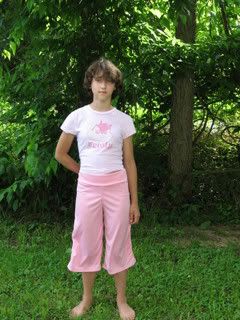 I did get the pieces for the shirt cut out but that is as far as I have gotten on it tonight. The fabric for the shirt is pink floral cotton blend. I am hoping to be able to work on it tomorrow and maybe even finish it.
Have a great weekend!