Allie and I started on her sewing project this morning. I had decided that since it was her project that she was going to do all the sewing and cutting. So here she is cutting out the fabric for her pants.

After she got everything cut out and marked she was ready to sew! She was doing great sewing the seams and finishing the seams......
....that is UNTIL Allie got her finger in the way of the sewing machine needle! YEOUCH!!! She didn't scream or yell but instead was saying "ouch" in a strangely quiet tone so when I looked over I was shocked to see a needle buried in her finger! I was freaking so hard on the inside but being a mom I couldn't show it. I knew I wasn't going to attempt to take the needle out of her finger so I removed the needle from the machine (causing much pain to my daughter) and jumped in the car and headed to the ER.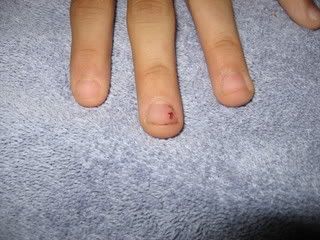 They had to locally numb her finger and that shot made her cry. After about 2o minutes the Dr. came back to remove the needle. Allie was holding on to my hand so tight I thought she was going to break my hand. There was some thread on the needle that went thru her finger so the Dr removed that first. I thought Allie was going to hyperventilate! She was so terrified as I would have been too! The doctor pulled the needle out with no problems and Allie was relieved.

She has some antibiotics to take to prevent infection and some pain medicine for the next few days. So, it doesn't look like Allie will be doing any sewing for awhile. What a way to start the summer break!!
As you can guess with all that excitement today I haven't gotten any stitching done. While Allie was sewing I was working on finishing a pinkeep but doesn't look like I am going to get it done today.