I have been pretty busy the past few days so there isn't a lot of stitching to report. I didn't get to work on Above the Clouds yesterday. I did get to work on Geisha for about 90 minutes this morning before I had to do errands with FIL.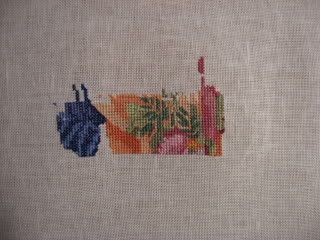 Tomorrow is the kids' last day of school. They are all excited and ready for a break. I am torn...I am excited about not having to worry about school stuff and not having to get up early but then again the thought of my kids driving each other and me crazy has it's down side, too.
Krissy had her awards assembly on Monday and she won Most Outstanding Math Student. Ah, like mother, like daughter:) I was always good at math in school and it was my favorite subject. Allie had her awards assembly today but she didn't get any awards this year. That wasn't much of a surprise as she has been lazy this school year. Mac's assembly is tomorrow.