Today's SBQ was suggested by
Kathryn
and is:
When you start a new work do you look for something small, do you look for another huge project or do you consider your UFOs?
Normally, when I finish a small design I start another small design. If it is a large piece, I start another large project. I treat my UFO's as new projects so they get picked up when I have had a large finish.
Geisha has a head finally! Those little green spots above her head are the leaves on the tree but I decided I wanted to work on her bottom half instead. I had a nice time working on her because Allie and I were stitching together. She is working on a little kitty design for her grandma.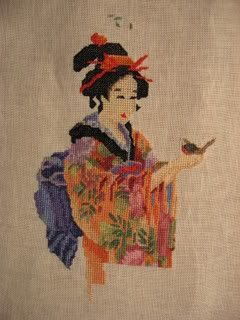 It rained again today...*sigh*...and forecasted for the next week. I love the rain but even this is ridiculous! Just today we got an 1 3/4 inches of rain. Even Girly, who loves to go out and run in the rain, tucks her tail in between her legs and scampers away from the door. Good thing I have stitching to pass the time! :)
I am still taking names for the gifts drawings until Saturday night. I will draw names on Sunday and post who will be receiving a gift from me. The response has been wonderful and totally surprised me! Thank you!!
Have a great weekend and try and stay dry! :)