It's Monday and it feels like one! I didn't sleep well last night so I am tired today but I know if I lay down and try to take a nap I won't be able to sleep tonight. The fact that it is raining isn't helping me either...what a better time to sleep!
I worked on Geisha yesterday. At first, I wasn't exactly in the mood to work on her with all the color changes but I went ahead and worked on her anyways. I am glad I did because I actually got a lot stitched on her.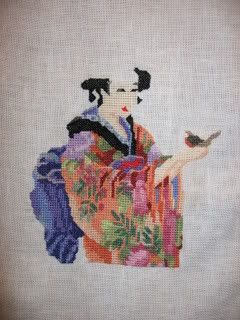 (sorry the pic is dark but it has been raining today)
Today is TW day so I will be working on ATC today. Of course, I have to finish the laundry and cleaning before I pick up a needle.
Have a great day!