The weekend is starting off good for me. I finished all the stitching on Dani, the Stitching Dragon and I even finished it into a flat fold. I had some interesting moments while I was putting the flat fold together. Normally, I use regular craft glue but today I discovered it was empty so I had to use my glue gun. I have to say I prefer to use craft glue than a glue gun and I have the burn to prove it!
I am quite pleased with how it turned out. I chose some dark blue fabric with stars to use for the finishing fabric. It has it's own place of honor in our bedroom on top of the mirror on my dresser. It has a ledge that I keep different stitched projects on for display.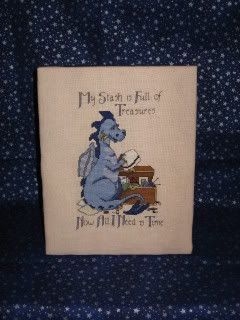 I am not sure what I will be working on this weekend. I kind of have an itching to start something new but I don't know what I really want to start!
Have a great weekend!