I went to the mailbox very hesitantly today since yesterday I recieved a letter from my biological father and let's just say it didn't help my week along. Anyways, today I braced myself for the worst and instead one piece of mail turned my whole week around! Inside my mailbox was a manilla envelope but when I looked at it I noticed there was no return address. Hmmm...how mysterious I thought.
When I opened the envolope I pulled out another envelopee marked for "My Mystery Exchange Partner" in very neat and pretty handwriting. I thought "wow, this is almost like my best friend's handwriting." Guess what....Renee did get me as her partner! How awesome is that?! As you can imagine, since she has known me for 20+ years, she picked out everything perfectly for me. :)
Here is what was in my exchange. The prettiest stitching bag. Renee, you do realize I have to hide it from Allie don't you? lol The inside fabric is a turqouse blue with very spring like colors. The goodies she sent me are the best too! She sent me some cute lady bug buttons..they are so adorable! She also sent me some needles. That brought a huge smile to my face since when she came for a visit from Germany she brought me some then. I only use #24 needles (except when beading) because I have a tendancy to snap the eye of the needles. I think I just grip it to tight and of course when I am stressing that is when they seem to snap and go flying across the room. But the fabric was the best of the goodies! I am proud to say I own one of Renee's personally dyed fabrics! She calls it Celery Dream. I remember when she dyed it and I thought it was an awesome color. I have to forewarn everyone...this fabric will be used for me!!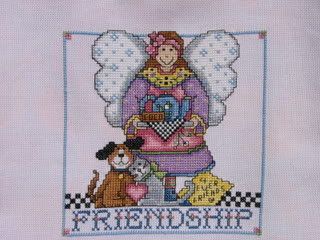 Here is a close up of the pattern. It is very me! She made some minor adjustments to make it for me. She changed the Angel's hair from black to brown and since neither of us drinks tea so she opted for coco.
I was going to post my progress on Griffin Kitten but I think this exchange deserves a post all of it's own. I will post a picture tomorrow!
Have a wonderful weekend!