The weekend went by to fast for me! I stopped by my LNS and I found a pattern I thought the person I am stitching for in the Mystery Exchange would like so I picked it up and started stitching on it right away last night. I finished the stitching up late this afternoon and started on the finishing. For some reason I was having a hard time getting this one put together. I don't know why either! Probably because I knew I needed to have it mailed tomorrow. Anyways, the finishing turned out okay so later tonight I will package it all up and mail it off tomorrow. I really hope ???? likes it!
I have been putting in a few stitches here and there on SITS. He looks kind of funny without a head.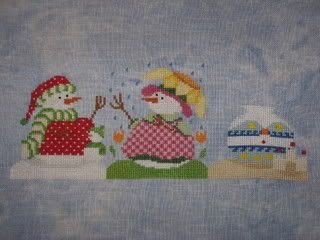 Tomorrow I am going to work on Woodland Faerie. It has been a while since I worked on her and I feel like I need to put some time in on her. There are a lot of blends and half stitches in this pattern and while it makes it looks awesome but at the same time it makes my head hurt..lol!