I have finished the final snowman in Season in the Snow! In the picture he is missing his black eyes (and the mouths of all the snowmen) but I had to make a run into town and pick up some DMC 310 but he does have eyes now! :)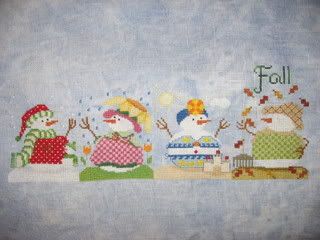 With all the snowmen finished and the back stitching done I am hoping to finish this piece sometime this week.
We have no plans for anything this weekend because all I am doing in taking it at easy as I can. While I didn't break my tailbone, I did fracture it. The doc says it probably would have been better if I had broke it but, well, that is my luck! While I am sure painkillers would help the pain that is just not an option for me. I am not allergic to painkillers but I am "sensitive" to them. Which means they won't kill me but instead make me throw up until my toes come out! So, it is hot bathes, hot pads, and ibuprofen for me. And yes, Jenna, I did break down and get a pillow to sit on:)
I want to share this picture of Mac. Friday his school had an award assembly and he was one of the lucky students to receive the high flier award for the benchmark tests. As you can tell from the picture he is just a little proud of himself.