I worked a little on The Fortunate Traveler today. I finished all the one over one cross stitching so now I am working on the one over one backstitching. I was pretty surprised at how fast I am getting the backstitching done in comparison to the full cross stitches.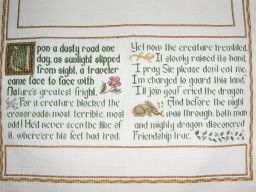 Today's SBQ is:
Do you stitch "over one?" If so, describe your experiences. If not,have you considered it?
I have been doing one over one stitching in 2 of my current WIP's (Woodland Faerie and The Fortunate Traveler). I don't mind to stitch over one because the pain is definitely worth the end result. I have found out that if I stitch over one for too long I end up giving myself a headache. So I tend to stitch a lot slower than I normally would.