I got some good stitching time in this evening. This pattern is stitching pretty fast. Since the kids are on Spring Break this week I am hoping to get a good amount of stitching done. I would like to work on this piece just a little each day so I can get it done and sent off in time for my mom's anniversary.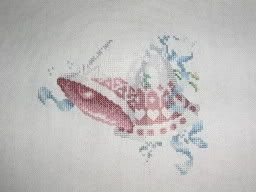 Today I will work on Woodland Faerie with
Christine D
. I am really looking forward to stitching on her this week since I have all the one over one stitching done. I am not for sure how much I will get done as we are supposed to be getting another round of bad storms sometime today.
My heart and prayers go out to the people of Centerton Arkansas whose homes were destroyed in the storm last night. This hits close to home as we used to live in that area. That is the area where my husband's family lives. I have been able to talk to one of my friend's and her house and vehicle were pretty banged up but they were all fine.