I actually got some decent stitching time in yesterday! I didn't think I was going to be able to do a lot of stitching since Mike and Krissy were both home sick again. I was able to work on her veil some and then realized I had made a mistake in the vines so I ended up ripping out about 30 stitches.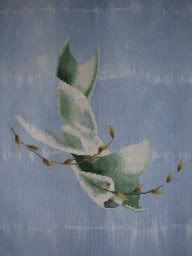 Today I will be working on Herbs & Spices. I am not sure how much time I will get to stitch on her. After I get done at work I have to go to Mac's school and take him to the book fair and buy some new books. After we leave the book fair I am supposed to pick up one of his little friends for a sleep-over. I still have to go do the weekly grocery shopping and clean the house. Looks like it is going to be a busy day for me!
Have a great weekend!