Like I said yesterday I didn't get to work on A Time For Everything as much as I wanted. I still have to put on some more french knots and the lazy daisies.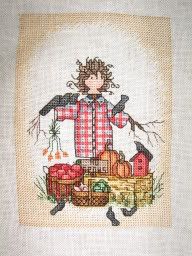 Some time tonight I am going to work on The Fortunate Traveler. I don't know how much I am going to get done on it since I am planning on making a run out to my LNS. I just feel the need to buy something! LOL
Life has been a little chaotic with me working extra hours. It's not the job but trying to get my normal daily stuff done in a shorter amount of time and still do some stitching! Normally, I can do my stitching at work but right now we are busy with going thru the files and updating them by hand. Nope, my boss doesn't believe in files on a computer all are done by hand!!
Thank you everyone for all the wonderful comments on Melissa's placemat and WF. They were greatly appreciated. :D