After finishing Unicorn and Fairy Magic yesterday, I decided that I was going to finish my piece for the Easter Exchange. It didn't take me too long but I did run into a small snag and temporarily considered finishing some other way. However, I was able to work through it and it came out looking great.
When I finished the Easter Exchange piece it was only about 5 pm. All I had to do was cook dinner and the rest of the evening was mine to stitch away. Since I didn't work on The Fortunate Traveler this week I decided to work on him. I only have a few words left to do and then I am done with the verse but there is more one over one stitching.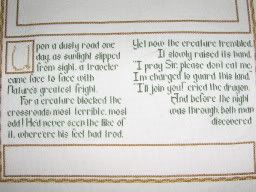 I'm not exactly sure what I am going to work on today. I might just go ahead and finish the verse on The Fortunate Traveler but after that I am either going to work on Herbs and Spices or Our Days. I would like to be able to work on both today but I'm not sure if I am going to be able to today.