Today's SBQ was suggested by
Heather
and is:
Comment on your comments (giving and receiving): Do you love comments or hate them? Do you check them every day, never check them, or find them helpful? And finally, are you convinced no one is reading your blog if you don't get any?
I love comments on my blog!! In "real life" when I get comments on my stitching I get embarrassed because non-stitchers think that it is really complicated to stitch so I feel that they give me too much credit. It isn't that way with my blog. I feel that my stitching friends are honest about their comments and aren't just trying to be nice. I check my comments at least everyday and sometimes more than once a day! I feel that they are really helpful in keeping me motivated on the current piece I am working on.
When I first started blogging I didn't think anyone read my blog and was thrilled when I started getting more comments. I was worried that nobody was interested in what I was saying and more that I was boring people with what I had to say.
As for stitching on The Fortunate Traveler yesterday, I didn't get as much done as I wanted to but Mike hurt his hip V-Day evening so he was home yesterday. He really needs to go the doctor but he is a stubborn mule and won't go see him.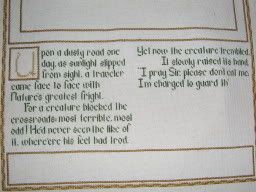 I am hoping to get some good stitching time in today on Deepest Love. I love this pattern and could work on it non-stop!