I had a good stitching weekend! I finished Cathymk's present. I love how it turned out! I also finished the stitching on Becky's gift. I even figured out how I am going to finish it! I even got started on my mom's anniversary gift. I am starting to scare myself with being all caught up on my exchanges/RR's!
Here is the start of Our Days by Ursula Michael: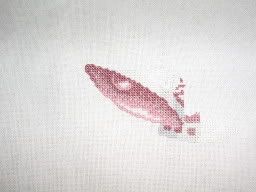 Today I will be stitching on Woodland Faerie with
Christine D
. I really like this pattern but right now I am stitching the one over one and I feel like I am moving like a snail with this pattern. I know it will go faster once I finish the one over one stitching but it is just getting to that point that is taking forever.