Today's SBQ was suggested by
Nancy
and is:
Describe your "perfect" project. (Include the designer or specific pattern, the fabric, the floss, and anything else that would make that project "perfect" for you.)
For my perfect project I would have to have no interruptions from the kids or the phone or just everyday life happenings. The design would be something with a fantasy theme(dragons, fairies, etc). My fabric would be 28 or 32 count linen that I would dye myself. I would use DMC floss and possibly some Kreinik. It would also have to have some beads to make it extra sparkly.
I would stitch non-stop in my recliner for hours at a time only pausing for a potty break. As soon as it was finished I would take it to the LNS to be framed. When it came back it would be hung up for all to see instead of waiting in the WTF pile. It is a nice dream, isn't it?
Since my rotation has been out of wack and some projects didn't get any attention the past week or so I worked on The Fortunate Traveler last night. It was more one over one stitching. I am getting there slowly but surely.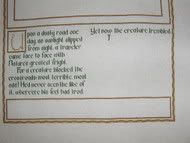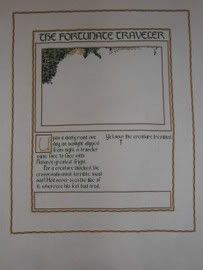 Today I will resume my normal rotation so I will be working on Herbs & Spices. I hope to get a lot accomplished today as I really need to do some stitching. Stitching for me is calming and relaxing. After the past week I need something to relax me!
Vash-I want to thank you (again) for the awesome scissors! I LOVE them! I am looking thru my patterns so I can stitch a fob for it.
Lynn-I received the patterns yesterday and believe me they really made my day! Thank you!!