This just wasn't my week for stitching. I figured that after losing Geisha it couldn't get any worse. It didn't dramatically get worse it just slowly slid downhill further. I had ran out of 310 that I am using in my SBHE so I started working on Collecting Shells and was running low on white. I made a quick trip to Wal-Mart to pick up some floss. Wal-Mart was out of both colors I needed. That didn't surprise me too much so that is why I was planning on a trip to the craft store this week.
The first sign that things weren't going to go well was I had to wait 30 minutes in the drive thru at the bank to get my check cashed. I decided to go out to the craft store to pick up some Kreinik floss that I had ordered over 3 weeks ago and to order some more for my SBHE. When I arrived and inquired if my floss arrived I was informed that my order had either got lost or not placed at all. The only reason I wasn't totally upset was that they were for Krissy's pattern that she is stitching and not mine. The owner was very sorry about the incident and said that she would reorder them for me. I gave her a list of all the floss that I needed ( a total of 9 spools!) and she promised me that it would placed and should be back in about 3 weeks. We will see.
After that minor let down I went to go get the 310 and white I needed for my projects. Can you believe that they were out of 310?! I double checked because she usually has 2 slots full. Nope, both were empty. Agghh!! So far I had not got one thing that I needed for my projects. That is the very moment that I decided that I was going to buy a new pattern. After the week I had, I
deserved
a treat for myself. I knew immediately which one I wanted. It is
TW's The Fortunate Traveler
.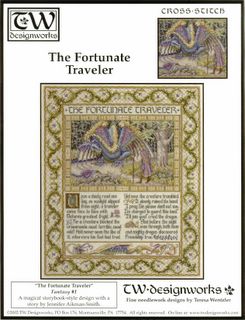 I can't wait to stitch this one!