I didn't get a whole lot of stitching done last night but she is slowly coming alive. I am stitching her on 28 count Charles Craft Monaco evenweave fabric that I hand dyed using tan Rit dye. It is all
Carol's
fault. :) I really didn't stitch on anything other than white fabric until I started reading her blog. She has some of the most beautiful fabric that I have ever seen! Then after seeing
Renee's
and
Christine's
hand dye jobs I decided to try it myself. I found that I really like to dye my own fabrics. It makes me feel more like an artist.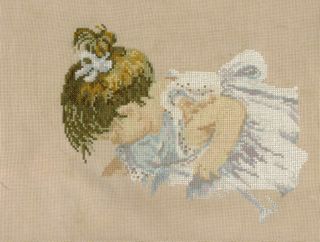 The kids are back to their normal school routine. Krissy is waiting for her clarinet to be delivered from the music store in Jackson. She is excited and I am stocking up on cotton balls! Allie is getting all geared up for her VIVA/ARTS class. Mac has not got into trouble (yet) at school. He did bring home his first spelling test and got a 102%.
Things have been hectic at work lately. My boss finally clued me in as to what is going on and it is definitely a good thing. I can't say too much because nothing is definite and I don't want to jinx myself. :) Hopefully, I will find out for sure in the next couple of weeks but until then I am keeping my fingers crossed.