I have done all that I can do on Unicorn and Fairy Magic until the bugle beads arrive. I finished up all seed beads last night. I am pretty proud of how it came out. I started out by using black thread (what was recommended) but I didn't like how it looked on the white stars so I changed it up and used white. It also called to be attached with 2 threads. I ran into a small road block at this point. The beading needles that I was using were so small that there was no way I was getting two strands in the eye hole. I could barely get the one in the eye! So now I am waiting for my bugle beads to arrive and then it will be officially finished.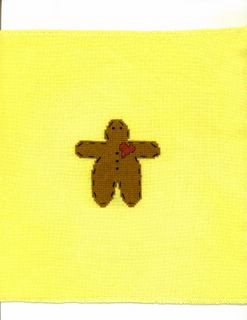 This morning at work I finished this little gingerbread boy. The only thing I can say is where is his mouth? Mac and I are going to finish this into a cube for his teacher for Christmas. He saw the one I did for the lottery exchange and decided that would be a neat thing for his teacher. Mac has already decided that he is going to put it all together himself. This will prove to be an interesting experience!
It looks like I will be working on ABC Bears tonight! I haven't looked at that one for at least two months. I have no plans on finishing this one. I am stitching it mainly because it has tons and tons of french knots and I need to learn on how to make a french knot better.