Some of you may remember before I moved I was working on Deepest Love. I was lucky enough to get a picture before my camera was broken this summer. I am planning on taking her to be framed and kept by me.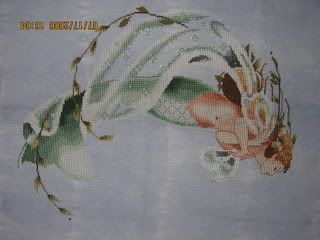 Here is my progress for Woodland Faerie in July. I have stitched on her more. I have finished her wings and the right corner. This one seems to be moving slow for me.
Here is my Seasonal Round Robing that Renee, Nicki, and Laurie stitched for me. I love it!
I stitched this little kitty up for my daughter Allie. I am going to make it into a ruffled pillow for her for Christmas.