We had a nice day yesterday. We were lazy, ate a lot of good food, and lit off fireworks. It was a pretty normal holiday for us:)
I snuck in a few minutes yesterday to stitch but didn't make much progress. That is not the case today! It was raining (still!) so I grabbed my stitching gear and got comfy to work on Mine All Mine.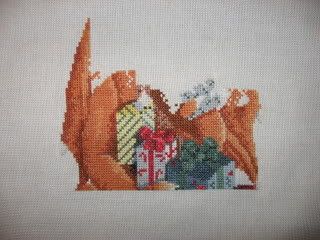 This particular one is for my step-dad. Since I will be visiting my mom and him at the end of July I would like to have both finished so I can give it to them instead of having to mail them. It all depends on if I can find some finishing material for the stockings. Either way, I still want to show them what they are going to look like.
Have a good night!