I finally got a moment of peace and quiet to sit down and write this post! I want to thank everyone for their kind thoughts for my mom and Mac. My mom made it thru surgery and now is sore but doing fine. The official results came back in today and the result were good. No cancer! Whoo-hoo. Major happy dance time:) That is a big relief!
As for Mac, we didn't get a call so first thing in the morning I will be ringing their office to remind them I would like to know what the results of the x-ray say.
I was working on finishing a gift this afternoon when Allie brought in the mail and much to my surprise their was a package for me. It was for the Freebie Exchange on the SBEBB.
Linda
made this gorgeous button box (that is what I am calling it, since that is what it will be used for) for me. It is the most beautiful shade of red, too! Linda, I love it and will treasure it forever!! Thank you so very much:)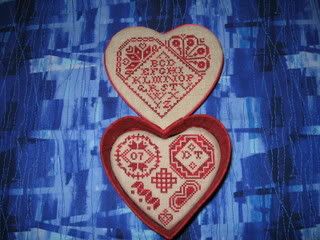 She also included some wonderful goodies, too. She sent some adorable buttons. I will definitely put them to good use. I had to snatch the bookmark fabric back from Allie as she tried to run off with it...lol.
Last but not least she sent me an awesome pattern. I have never seen it before but I fell in love with it before I had it completely out of the package:) It is called Words To Live By from With My Needle.