I had a wonderful time visiting with
Renee
while she was here. We had all these plans of going stash shopping but mother nature had other plans! Wednesday we had a pretty good snow storm. The kids were let out of school early on Wed. and didn't have school for the next 2 days. We did manage to visit my LNS before the storm so we did get to a little stash shopping. :)
Since it was cold and snowy we were able to do a fair amount of stitching. I worked on ATFE and finished the spring scarecrow and started the back stitching.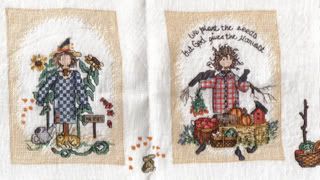 My main focus of the week was Footprints. I stitched the lower border and I am hoping to completely finish the border this week sometime. Sorry the scan is crooked. The fabric kept slipping when I would close the lid so I finally gave up!
I did also started stitching Dani, the Stitching Dragon last week but I had to set it aside since I have to order some silk floss. I will try and remember to bring it with tomorrow to post a picture.
During all that stitching I showed Allie how to stitch on linen. I was astonished at how quickly she picked it up! She stitched a small design up in a single night. Now I really have to keep my stash under lock and key...lol! Krissy even picked up a project and started working on it and so far she hasn't gotten frustrated with it.