Things didn't start off great for me yesterday when I sat down to work on the ATFE SAL with
Becky
. Immediately, I realized that I didn't have a few colors with me I needed so I couldn't finish the back stitching and lazy daisies on the Spring scarecrow. That is when I discovered I didn't have the colors for the kitty that is supposed to be next to the birdhouse. Grrr....I KNOW I had all the colors together in the bag. I wonder if my little stitchers at the house robbed me. :) Anyways, I finally decided to start on the frame around the Winter scarecrow.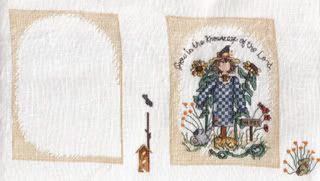 We have no big plans for tonight. We are going to stay at the house and try to stay warm! It has been cold here! Mike and I don't exchange gifts with each other so we didn't have to deal with the rush of the Valentine's crowds. Instead we give the kids presents. I don't know if this is normal or not but that is how my parents were with me on Valentine's. The girls each got a pair of fur lined boots and Mac got an outfit plus they all got a chocolate heart from me.
Happy Valentine's Day!!